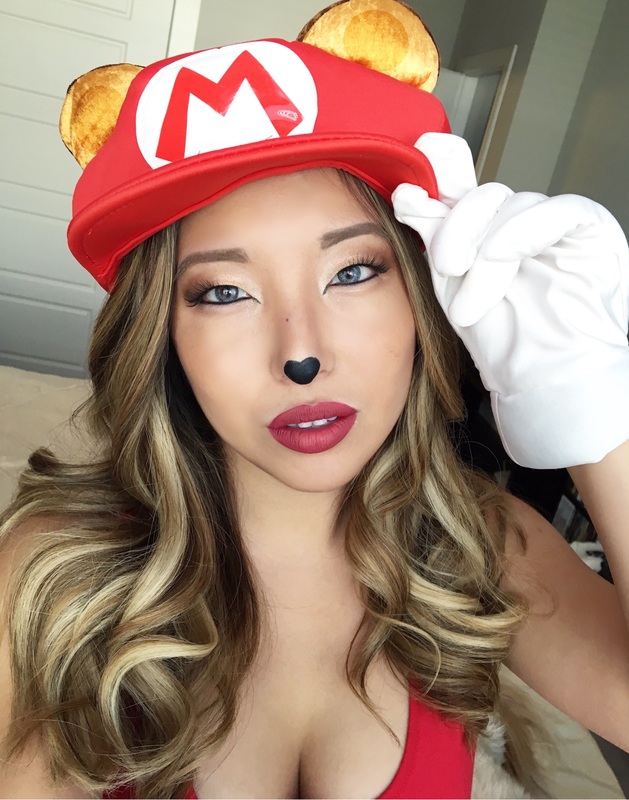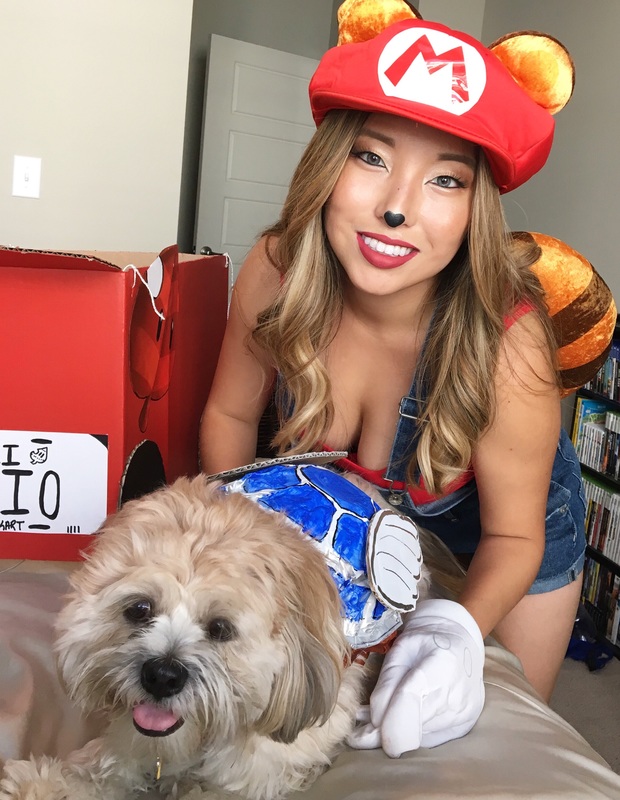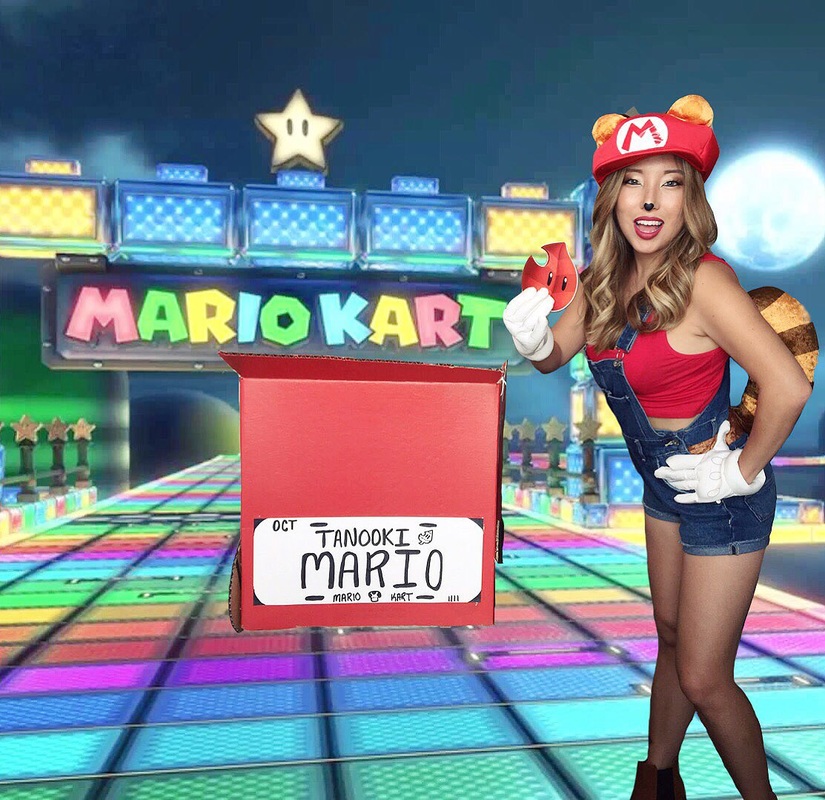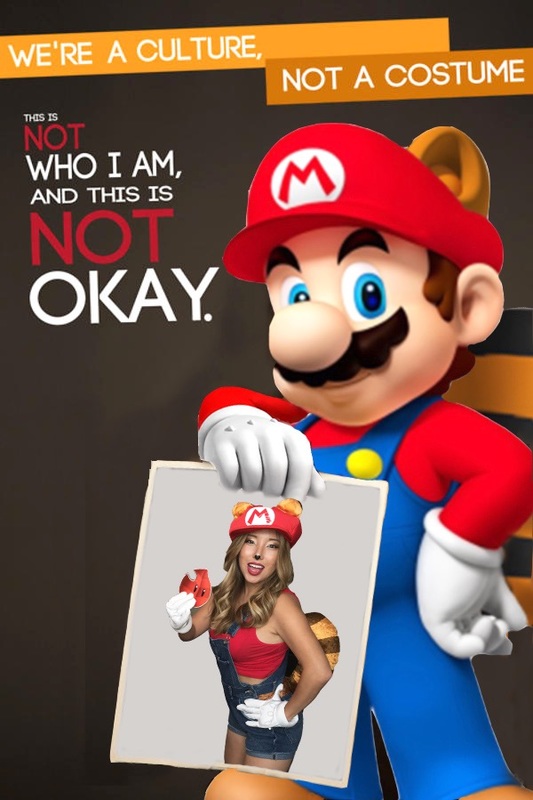 Costumes, Candy, Creativity, Cosplay… Of course I love Halloween! If it came with obligatory cheeseburgers, it'd be the best holiday in the world.    If you can't tell from looking, my costume didn't come straight off the shelf.  Whether it be that they're not super popular or that I'm about the size of a large child, my costumes tend to involve a large DIY component.  This year, I was able to find the tail and hat, but had to get creative on the other clothing and bringing it all together.   Plus, my dog always gets in on the action too.
Since, I love video games, many of my costumes are cosplay-like in nature, allowing me the ability to take on a video game persona for the Halloween festivities.    I like to have fun with it and try to be as accurate as my budget can accommodate.   I will also be the first person to point out that I'd much rather have a functional, fun costume than an overtly sexualized one.  Though this year's Mario Kart Tanooki had some unique components.  
First, though he's a strictly male figure, I opted to forgo the mustache.  They're crazy to keep stuck on, and unfortunately, I wasn't growing one any time soon.
Second, in terms of long overalls, their availability to petite ladies was few and far between.  I came up with a cute pair from H&M and still had to alter them to fit!
Lastly, this is by far the most skin-barring costume I've sported for many Halloweens combined, and not that I should need to defend it, but hear me out.  If Tanooki DID have a female version, it would be incredibly hyper-sexualized and I guaranteed wearing less clothing than I was.  For those of you who aren't super familiar with the gaming world, women characters are basically running around naked with huge boobs and Barbie-worthy proportions, while men can be old, gruff, and fat and still viably playable.  So, basically like the real world. #DadBods.
 
Since being Tanooki, I looked up a few other women who attempted the character and they are  basically in underpants and ears.   I'm not sure why video game characters are developed that way or why society so desperately wants to simultaneously exploit and reward females for the sexualization of our bodies, but it's the reality we live in.   Half the women I know are crippled from insecurities, the other half can't stop screaming body pride and love at any size.   I wonder how many issues people have coming to grow and accept themselves and meet healthy standards, and I hope to always promote body positivity and healthy body image.  
So what I'm saying is, I stand behind my costume choice and character portrayal.   If video games ever create a female Tanooki, if she's not part of a plot line where she just needs rescued, I'm hoping she'd at least look close to what I came up with.   If you're interested in what went on behind the look, then read on!
OUTFIT
Overalls: H&M size 4 – I altered them because I have an extremely short torso. 
Red tank:  Wet Seal – it was $ 0.68 this was the cheapest thing I could find
Boots: H&M – size 5.5  in light brown.  SO COMFY
Accessories: ordered online and sewn to overalls as needed.
Blue Shell:  baking tin,  blue paint, cardboard, and an old dog harness…  adorable puppy not sold in stores.
Mario Kart car: box from Home Depot, wall paint, and worn with strings as straps.  BONUS: You can attach balloons on the back if you want to simulate some special game modes.
MAKE UP
Primer: Smashbox primer water
Founation: Smashbox studio skin
Eyes: TooFaced Natural eyes 
Liner: Kat Von D tattoo liner – black
Brows: Anastasia dipbrow – ash brown, Brow wiz – medium brown
Nose: Urban Decay 24/7 liner black
Lashes:  Urban Decay perversion
Lipstick: Kylie Cosmetics Mary Jo K
Hilighter: Becca champagne pop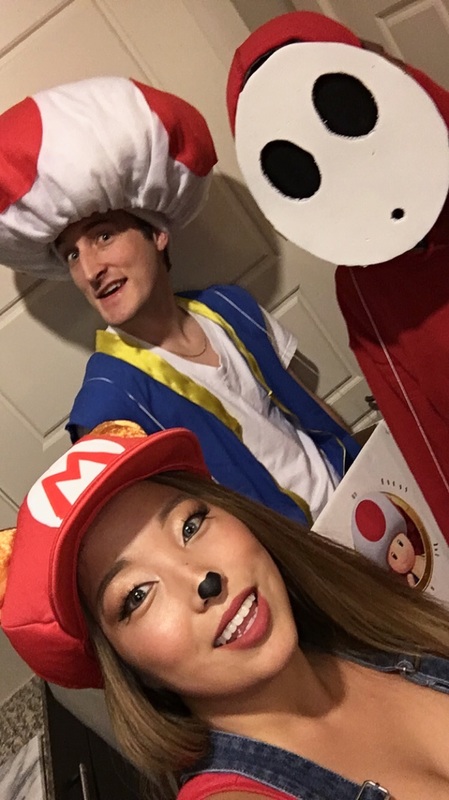 Tanks selfie: My Mario Kart crew rollin three deep for the night!
​
How was your Halloween? I hope it was tons of fun!
-MC